2016 Summer Reading
The O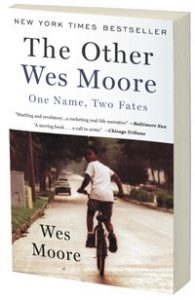 ther Wes Moore: One Name Two Fates, Written by Wes Moore
The Summer Reading book takes you on a captivating ride where you will meet two kids with the same name living in the same decaying city. One grew up to be a Rhodes Scholar, decorated combat veteran, White House Fellow, and business leader. The other is serving a life sentence in prison for felony murder. Here is the story of two boys and the journey of a generation.
More about the 2016 Summer Reading.
---
All The Difference
Film Screening and Discussion
September 8, 2016 at 7:00 in Gault Recital Hall
Inspired by The Other Wes Moore, Emmy-winning producer/director Tod Lending has produced and directed All The Difference, a feature-length documentary film, and media outreach project, that explores critical issues and offers insights and solutions related to African-American manhood. Filmed over five and a half years, All The Difference weaves together the stories of two tough, yet promising young black men as they navigate their lives in broken homes and low-income, high-risk communities in Chicago. The film explores the factors in their lives (education, parents and grandparents, teachers, role models, personal drive and community support) that made All The Difference in helping them be the first in their families to most likely escape poverty and secure a place in the middle class.
This film screening is supported by City Year.
Learn more about the film and watch a trailer.
---
The Bellwether: Why Ohio Picks the President
Kyle Kondik
September 15, 2016 at 7:00 in Lean Lecture Hall
Kyle Kondik is the Director of Communications at the University of Virginia's Center for Politics. He will discuss his new book The Bellwether: Why Ohio Picks the President which blends data-driven analysis, history, and journalism to explain the role of this critical swing state.
More about Kyle Kondik
---
Millenials and the 2016 Election
Panel Discussion between Michael Eric Dyson and Bakari Kitwana
September 15, 2016 at 8:00 in McGaw
This program will discuss some of the unique dynamics of the 2016 Presidential Election, including the following core issues that have dominated this elections season: immigration, women's reproductive rights, police reform, race, terrorism, class divisions. We will also consider the impact of the Donald Trump campaign, what it means for the nation to have a woman as a major presidential candidate (Hillary Clinton), the significance of third party candidates, and the internal divisions within both the Republican and Democratic parties—all crucial components at the core of a historic election season.
Students will be challenged to consider (1) what is at stake for millennial voters this election year; and (2) why does civic engagement matters more than ever in an age of mass protests and at a time of when the nation seems more polarized than ever?
   Michael Eric Dyson
   Bakari Kitwana
---
A Tribute to Sarah Vaughan
Wooster Symphony Orchestra
September 17, 2016 at 7:30 in McGaw
Featuring:
Ann Hampton Callaway, vocalist
René Marie, vocalist
Dee Alexander, vocalist
Cleveland Jazz Orchestra
Paul Ferguson, Artistic Director
Wooster Symphony Orchestra
Jeffrey Lindberg, Music Director and Conductor
---