View Past Events here
---
The Peter Mortensen Endowed Lecture
Wes Moore
October 3, 2016 at 7:30 in McGaw
Wes Moore is the New York Times bestselling author of The Other Wes Moore: One Name, Two Fates. Wes Moore grew up in inner city Baltimore, after some struggles in his youth, he graduated from Valley Forge Military College and John Hopkins University. He attended graduate school at Oxford University as a Rhodes Scholar. Moore is the founder of STAND! an organization that works with youth involved in the criminal justice system.
The Peter Mortensen Endowed Lecture Fund was established in 2006 with a gift from Peter Mortensen, class of 1956, with gratitude for the contribution of The College of Wooster to the success and happiness of four generations of the Mortensen family. The fund supports public lectures and/or performances related to the First-Year Seminar.
Follow Wes on Twitter: wesmoore1 and Facebook: www.facebook.com/IAmWesMoore See More at WesMoore.com
---
Wilson Lecture
Milton Ezrati
October 5, 2016 at 7:30 in the Wilson Governance Room
Milton Ezratie, former Chief Economist at the Lord Abbett Funds,  is a recognized authority in economics and finance with particular interest in questions related to how economies can meet the challenges associated with globalization and aging populations. Mr. Ezrati has been quoted in a variety of publications including The Wall Street Journal, Barron's and Financial Times. He is the author of Kawari, which is one of the foremost books detailing the economic changes in Japan.
Endowed in 2001 by James R. and Linda R. Wilson, the James R. Wilson Lecture Series in Business Economics brings business and financial leaders to the Wooster campus to share their insights with students, faculty, and the broader community.
More about the Wilson Lecture.
---
Lindner Lecture

Dr. Stephen Darwall
October 6, 2016 at 7:30 in Lean Lecture Room
Dr. Stephen Darwall is the Chair and Andrew Downey Orrick Professor of Philosophy at Yale University. Before his time at Yale Dr. Darwall taught for twenty-four years at the University of Michigan and twelve years at the University of North Carolina at Chapel Hill. He has published widely and influentially in ethics and the history of moral philosophy. For further details please visit his webpage. He is also an editor at "Philosophers' Imprint".
Please join Dr. Darwall, Dr. Paul Hurley (Claremont McKenna), and Dr. Japa Pallikkathayil (Pittsburgh) at 11 a.m. October 7 for an "Author Meets Critics" session.
The Lindner Endowment was established in 2007 by Carl H. Lindner of Cincinnati, Ohio, to benefit the Department of Philosophy. The purpose of the Lindner Lectureship is to support the teaching of ethics.
More about the Lindner Lecture.
---
Inauguration of the 12th President of The College of Wooster
Sarah R. Bolton
October 22, 2016
Details forthcoming
---
French and Francophone Film Festival



October 25 – November 17, 2016



All films are at 7:30 in Gault Recital Hall
Films are free of charge. Please click on the links below for film synopses and trailers.  Films include English subtitles.
This is a "Tournées Film Festival," made possible with the support of the Cultural Services of the French Embassy in the U.S., the Centre National du Cinéma et de l'Image Animée (CNC), the French American Cultural Fund, and Florence Gould Foundation and Highbrow Entertainment.
---
Helen Murray Free Lecture
Madeleine Jacobs




October 27, 2016 at 7:30 in Lean Lecture Hall
Madeleine Jacobs, a prominent science advocate and leader, is the current President and CEO of the Council of Scientific Society Presidents, an organization of presidents, presidents-elect, and recent past presidents of about 60 scientific federations and societies whose combined membership numbers well over 1 million scientists and science educators. Prior to assuming this position in March 2015, Jacobs was Executive Director and CEO of the American Chemical Society (2004-2015). As part of Jacobs' 24-year career with ACS, she served as the Managing Editor and the Editor-in-Chief of ACS's weekly newsmagazine, Chemical & Engineering News (C&EN). Throughout her career, Jacobs has been focused on promoting science and technology careers to young women, girls, and minorities at all educational levels to motivate them to achieve their greatest potential.
A lecture will be held in the morning at 11:00 that same day. Details of the lectures may be found here.
Helen Murray Free graduated with a B.A. in chemistry from The College of Wooster in 1945. Her research in clinical chemistry revolutionized diagnostic testing, particularly the "dip-and-read" glucose tests for diabetics, and she was awarded seven patents for her clinical diagnostic test inventions.
More information about Madeleine Jacobs.
---
The Crucible by Arthur Miller
Directed by Shirley Huston-Findley
October 27, 28 & 29, 2016 at 7:30 pm in Freedlander Theatre
Written in 1953, Miller's play, which used the Salem Witch Trials of the late-seventeenth century to comment on the McCarthyism of his time, speaks to us in profound and similar ways today as we prepare for a controversial and significant election in America. Whether a conservative or liberal, Republican or Democrat, The Crucible asks us to consider the ways in which fact and fiction, as well as the narrative perspective, lead us to believe, distrust, and imagine our own historical moment in time.
---
Dr. Martin Luther King Jr. Day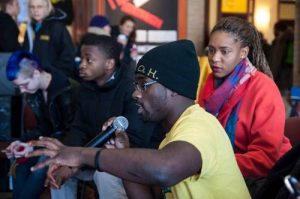 Dr. Martin Luther King, Jr. once said that "Life's most persistent and urgent question is: What are you doing for others?" The College of Wooster honors the National MLK Day of Service theme with events centered on service, justice, and equity each year.
In 1983 a federal holiday marking the birthday of Rev. Dr. Martin Luther King, Jr., was created and in 1994 Congress designated the Martin Luther King Jr. Federal Holiday as a national day of service and charged the Corporation for National and Community Service with leading this effort.
Taking place each year on the third Monday in January, the MLK Day of Service is the only federal holiday observed as a national day of service – a "day on, not a day off." The MLK Day of Service is a part of United We Serve, the President's national call to service initiative.
The College of Wooster will be celebrating MLK day on January 16, 2017. For more information please visit The College of Wooster's MLK Jr. Day webpage.
---
Osgood Lecture
Dr. Rob Thieler
March 1, 2017
Dr. Rob Thieler is a Research Geologist with the U.S. Geological Survey in Woods Hole, Massachusetts. He received his B.A. in political science from Dickinson College, his M.S. degree in environmental science, and his Ph.D. in geology from Duke University. Dr Thieler conducts research on the geologic framework and evolution of the coastal zone. He has conducted assessments of sea-level rise vulnerability for the U.S. and locations worldwide.  Dr. Thieler works with many federal and state agencies to develop science and policy plans for addressing climate change impacts. He also studies habitat use and availability for beach-nesting and migratory shorebirds. More information regarding the research of Dr. Thieler in addition to publications and presentations can be found at the Northeast Climate Science Center webpage.
The Richard G. Osgood, Jr., Memorial Lectureship in Geology was endowed in 1981 by his three sons in memory of their father. Dr. Osgood was a paleontologist with an international reputation who taught at Wooster from 1967 until 1981. Funds from this endowment are used to bring a well–known scientist interested in paleontology and/or stratigraphy to the campus each year to lecture and meet with students.
More about the Osgood Lecture. 
---
The Donaldson Fund
Rowan Ricardo Phillips
April 20, 2017
Rowan Ricardo Phillips is an acclaimed poet and literary. His first volume of poetry The Ground was a finalist for the Los Angeles Times Book Prize for Poetry and the NAACP Image Award for Poetry. His second book of poetry Heaven was a finalist for the National Book Award and was chosen as one of the best books of 2015 by both The Washington Post and NPR. In addition to poetry, Phillips writes about sports for The New Yorker and The Paris Review.
The Donaldson Fund was established in 1984 by a generous gift from Stephen R. Donaldson, class of 1969, to support opportunities for creative writing at Wooster. Mr. Donaldson is a writer of literary fantasies and science fiction.
More about Rowan Ricardo Phillips
---
Senior Independent Study Symposium
Each year, the College of Wooster cancels classes on a Friday in April to celebrate the accomplishments of the senior class. The college itself becomes a classroom as hundreds of senior share the projects they have developed during the academic year. Students, faculty, staff, parents, and community members are encouraged to visit campus that day and listen to presentations, view art exhibits, ask questions about research posters, and explore the work of the senior class.
This year The College of Wooster will be holding the Senior IS symposium on April 28, 2017. For more information about the symposium please visit The College of Wooster's IS symposium webpage. 
---
Stay Tuned for more Information Regarding the Wooster Lecture Series: Celebrating 150 Years.